Take a break, have a staycation getaway!
Whenever we go on a trip, be it locally or overseas, we always look for a hotel that is near to the city centre, at the same time strategically located within walking distance to public transport for easy travel around.
MOV Hotel KL Jalan Berangan – a new hotel opened in 2018, fits well to both of these criteria and goes  far more noteworthy with its consciously designed space, integrating cheeky and modern elements for one-of-its-kind stay experience. Definitely a hotel that redefines affordable lodging right from the lobby, beyond just convenience.
There's a total of 147 rooms in MOV Hotel including 9 lofts, each fitted with king size beds (* single beds for twin rooms) and amenities that promises comfort for a perfect end after a day of action.
Among all the rooms, the 9 lofts significantly distinguish MOV Hotel from many of the boutique hotels in Kuala Lumpur. 4 different designs, namely MOV Family Loft- room for your entourage, MOV Allure Loft – perfect room to cuddle, MOV Infinity Loft – room with luxurious 4 poster bed, and MOV Studio Loft – loft room with a lounge.
We checked in to MOV Allure Loft last weekend, also the loft room best for romantic stay with soft sexy lighting. It is characterized by high ceilings, with clever use of texture, colours and furnishing to create harmonious, stunning look – champagne gold framing, greyish walls, huge make-up mirrors, marble vanity top, vintage sofa, bold lighting, and beyond.
The section that we love most – in-room bathtub! Had bubble bathe here in the evening with bath bombs bought from LUSH – the famous handmade cosmetic from US, now opened in Pavilion KL! Go get it! Because Pavilion is just a merely 10 minutes walk from MOV Hotel!
Stay connected with MOV Hotel 1Gigabyte internet speed. Great for business travellers, or guests who need to connect to internet for work.
Remember to head to the rooftop too! MOV Hotel rooftop swimming pool is here, and it is also a hub of activities and movement place sets against the spectacular view of KL city. It will soon be the home to exercise classes such as yoga and Zumba too.
We can literally do nothing and chill here. So cozy…
Night view from the rooftop
Day view from the rooftop
Gym room, same level as the rooftop swimming pool.
Not to forget, within the lower ground floor of MOV Hotel is WURST Kuala Lumpur – an deli restaurant well-known for gluten-free gourmet sausages and all things delicious from fish & chips to Angus beef meatballs, Wagyu Bone Marrow, Haggis, etc. . Headed by passionate Chef Logan who has decades of experience in the culinary industry, rest assured, your dining experience here will not be disappointed.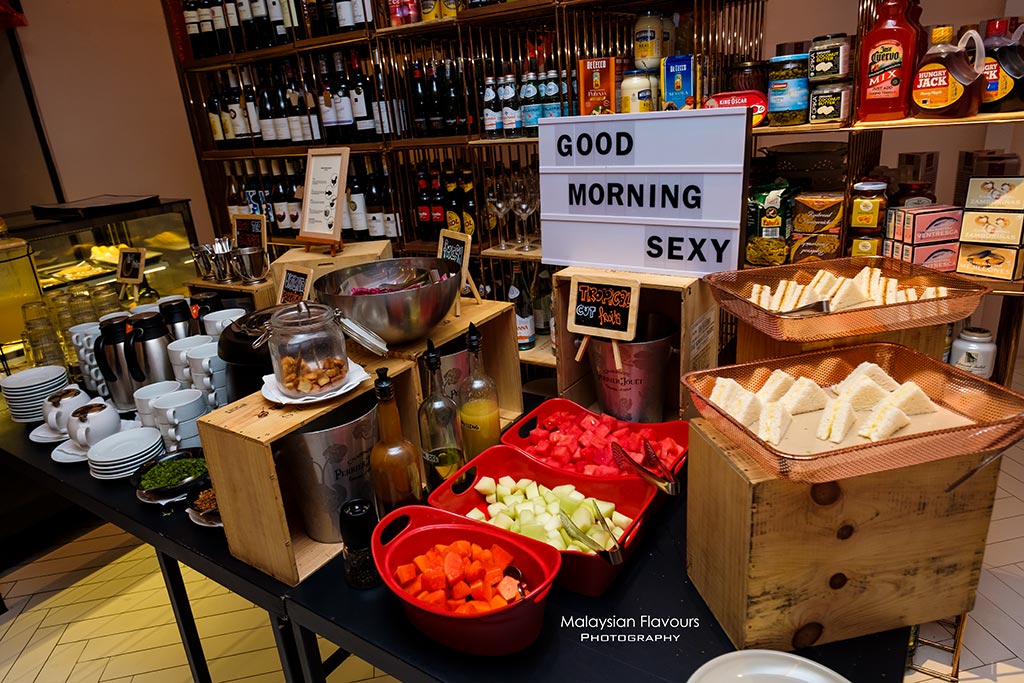 Breakfast is served in WURST, semi-buffet style. Probably one of the best hotel breakfasts we've ever had, not your usual hotel buffet breakfast. The menu has a lovely choice of poultry, fish, noodle, rice and congee suitable for vegetarian- so thoughtful! If you are staying in MOV Hotel, it is highly recommended to top-up for breakfast.
Oh ya, the fun part – you can slide down to the restaurant!
Other advantages that keeps MOV Hotel worthwhile, especially for travellers to Kuala Lumpur:
1. About 5 minutes to Jalan Alor– a street filled with eateries, one of the best places in Bukit Bintang area to discover Malaysian street food
2. About 2 minutes to Changkat Bukit Bintang – the bustling street for nightlife in KL
3. 10 minutes to reach major KL shopping malls – Pavilion KL, Starhill Gallery, Fahrenheit 88, Lot 10 Bukit Bintang. Shop till you drop!
4. Less than 10 minutes to MRT Bukit Bintang – You could get to your destination around KL without much hassle.
5. 2 minutes walk from Bukit Bintang Street Art
For more information and reservation, visit www.movhotel.com.
MOV Hotel Kuala Lumpur
Address:
43, Jalan Berangan, Bukit Bintang,
50200 Kuala Lumpur, Malaysia.
Email: info@movhotel.com
Phone: +603 2781 9888
Nearest public transport: Bukit Bintang MRT