This coming 13th May to 15th of June, head over to Si Chuan Dou Hua at PARKROYAL Kuala Lumpur to indulge in Beijing Roasted Duck dishes specially crafted by talented chef. Apart from the crispy duck skin, diners will have the chance to enjoy the succulent meat and bones prepared into a variety of dishes of your choice.
Priced at RM99 nett per duck, this Beijing Roasted Duck is available from 12pm to 2.30pm during lunch and 6.30pm to 10.30pm during dinner.
Duck Skin wrapped with Seaweed and JUlienne Legumes春卷皮包鴨皮
Starts with the presentation of whole Beijing roasted duck, slow roasted to beautiful golden brown. The skin is delicately carved in front of diners and wrapped into seaweed together with JUlienne Legumes and sweet sauce to deliver a sweet, crisp and juicy concoction, waking up the appetite. The unconventional way of using seaweed to replace rice sheet as wrapping works successfully.
Duck Bone with Salted Vegetables and Bean Curd Soup 咸菜豆腐鴨湯
Not wanting to waste any section of the roasted duck, the duck done is used to boil into Salted Vegetables and Beancurd Soup, warming up the tummy while waiting for the main course to be serve.
Wok Fried Duck Meat with Sichuan Spicy Chilli 重慶鴨肉
There are seven ways to prepare the duck meat, and diners can choose to have one of them. For those who are adventurous enough, try on the Wok Fried Duck with Sichuan Spicy Chilli. Stir fried with ample of dried chillies, this dish is fiery hot enough to numb your tongue, rendering a spicy aftertaste that burn up the throat. Though spicy, but is addictive.
Stir Fried Duck with Fragrant Black Pepper Sauce 黑椒炒鴨肉
If you like spicy, but not into Si Chuan style, go to Stir Fried Duck with Fragrant Black Pepper Sauce. It is of milder version, with sweetness takes in a step more than spiciness. A very pleasing dish to have the fragrance of black pepper to round up with the sweetness of meat and sauce.
Stir Fried Duck with Young Ginger and Onions 姜蔥炒鴨肉
For a more toned down experience, savour Stir Fried Duck Meat with Young Ginger and Spring Onion. You will love the aroma of ginger and spring onions develop in the sauce, gracefully coated every inch of the meat. So flavourful.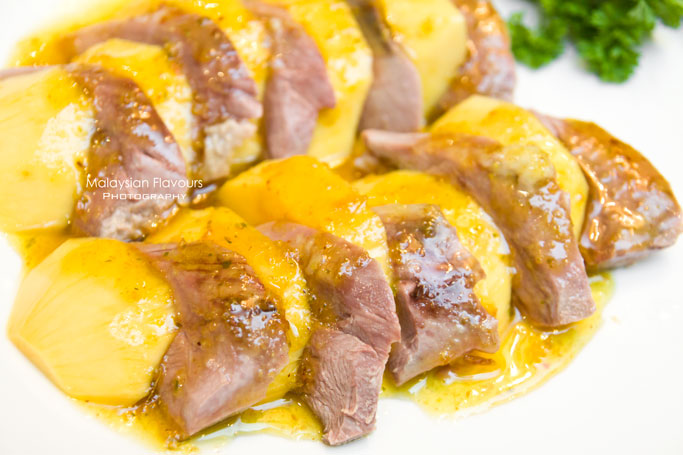 Sliced Meat with Mango and Spicy Sauce 芒果鴨肉
Sliced Meat with Mango and Spicy Sauce is uniquely crafted to churn out an exeptional combination, where diners will get the chance to hunt down the tenderness of meat and frutiness of mangoes at the same time. Somehow it is a good matching of sweetness and savouriness, deserving double thumbs up.
Crispy Noodles 鴨肉炸生麵
Crispy Noodles is great for diners who are in the mood of noodles.Deep fried and drenched in a bed of thick, creamy sauce, the noodle brings a cross of soft and crispy texture. Simple, yet satisfying.
Longevity Noodles 鴨肉長壽面
Longetivity Noodles is a more common dish among all, and makes it different from the usual will be the additional of duck meat. Plentiful of flavours and textures, it is not hard to polish few small bowls of this.
Dan Dan Noodles 鴨肉擔擔面
Dan Dan Noodles fall short in flavours compare to the Crispy Noodles and Longetivity Noodles. This Si Chuan recipe is light in taste, but as you slowly devour in, you will enjoy the fragrance of fermented beancurd that gradually develops in the palate, together with meaty bites of duck meat.
Photography: Summer
Write Up: YLing
Address:
Si Chuan Dou Hua Restaurant
PARKROYAL Kuala Lumpur
Jalan Sultan Ismail,
50250 Kuala Lumpur.
Tel: (603) 2782 8303
Fax: (603) 2782 8455
Opening hours:
Lunch : 12pm – 2.30pm
Dinner : 6.30pm – 10.30pm
Email: douhua.prkul@parkroyalhotels.com
Website: http://www.sichuandouhua.com/restaurants/Pages/PARKROYAL-Kuala-Lumpur.aspx