Everywhere we expand, the mission "to spread SMILE and ARIGATOU through bowls of ramen" continues.
Hakata IPPUDO Ramen is always clear in delivering their mission, which also becomes one of the keys of success to this famous ramen chain store. Established in the year of 1985, they are having more than 65 stores across Japan, and leaving footsteps in countries like Shanghai, Singapore, Seoul, Hong Kong, Taipei, Guangzhou and Malaysia.
The restaurant is founded by Shigemi Kawahara, the renowned Ramen King who holds a place in Ramen Hall of Fame after winning the Champianship 3 times consecutively from 1995-1998 on "TV Champion Ramen Chef" Japanese TV show.
He believes that a restaurant is like a stage, so every move is important from cooking to serving, from the moment guests step into the resturant until staff saying goodbye to customer. Hence in Hakata IPPUDO, hospitality and service quality counts.
At the same time, he holds on a philosophy that continuous innovation and creativity while remaining true is essential. This leads to the kitchen to redefine recipes for a dish that emerged over 300 years ago and bring to the born of redefined Hakata-style tonkotsu ramen with delicately creamy broth that now earns Hakata IPPUDO global acclaim as one of the best ramen to have.
Shiromaru Motoaji (RM26)
Hakata IPPUDO's Tonkotsu-based ramen is built from a secret recipe that combines selected high quality ingredients; boiled using pork bone and simmered for more than 15 hours to release essence of pork bone into the soup, creating a perfect emulsion.
This original Tonkatsu broth is listed as Shiromaru Motoaji on the menu, having ultra-thin noodles, pork loin, bean sprouts, kikurage and scallions immersed in a bowl of creamy, cloudy white broth that is deep in flavours, yet pleasantly light to the palate. Flavourful, yet not too oily.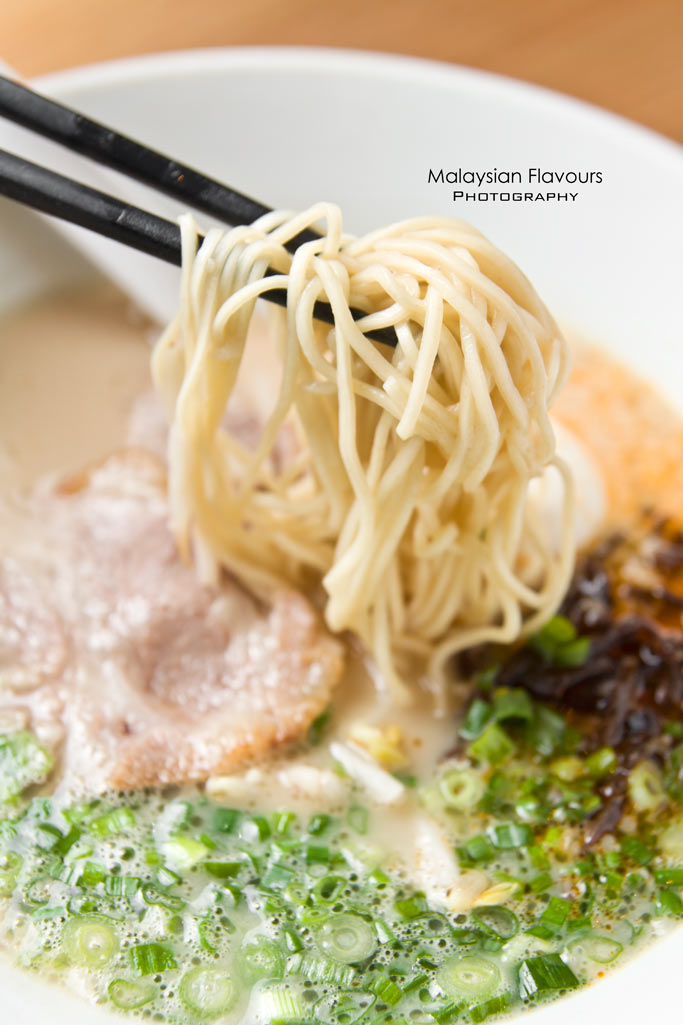 Noodles here are ultra-thin, cooked to al-dente by default, lending springy texture. Alternatively, diners can opt for soft, normal, hard or very hard while ordering ramen, which indicates the "well-doneness" of your noodles. Hard, soft or normal? Choose according to your liking.
Adding Tamago to your ramen is a must in Hakata IPPUDO. Arrived in a whole, the egg looks no difference from any other hard boiled egg, but it is another whole new story once you sink your teeth onto it. The egg white is hardened at the outer layer, delicately soft at the inner layer, encasing creamy, runny egg yolk that flows out handsomely once biting through. So delicious that you will not want to miss!
Akamaru Shinaji (RM28)
As mentioned, Hakata IPPUDO's ramen is fueled with innovation. Their Modern Tonkotsu, Akamaru Shinaji aims to excite diners' palate with special blended miso paste and fragrance garlic oil infused into Hakata IPPUDO's original Tonkotsu broth, resulting in bold, sharp, aromatic flavour atop the mild, creamy sensation.
Karaka-men (RM28)
Like spicy? Then goes to Karaka-men which stirred in special spicy miso into Hakata IPPUDO's original Tonkotsu broth. This ramen lends more textures compared to the former two, thanks to the presence of cashew nuts and minced pork. Summergirl loves having the ground pork, scallions and noodles all together to reach for full, more satisfying bites.
Craving for more noodles? Order Kae-dama for extra serving of noodles, as long as you have enough soup in your bowl. Toppings wise, one can add on salted Shiotamago/soft-boiled egg, Onsen Tamago/Poached egg, Negi/spring onions, Nori/seaweed, Ajikikurage/flavoured black fungus, Bara Chashu/simmered pork belly, Loin Chashu/Simmered pork loin, or all-in-one!
Unagi Cheese Roll (RM15)
In June Chef Special menu, Hakata IPPUDO introduces sushi and rice side dishes to go with your ramen. Salmon Avacado Bacon Roll, Unagi Cheese Roll and Spicy Tuna Roll are the sushi option you can have. We like Unagi Cheese Roll the most, featuring sticky sweet unagi rolled in Japanese rice, dotted with sesame and topped with a dollop of cheesy mayo cheese.
Ishiyaki Rice
Japanese rice serves over a bed of mixed mushroom, egg and deep fried breaded chicken or pork. Highlights goes to the chicken katsu which promotes a crispy, crunchy outer layer; enveloping juicy, tender meat, so goodt that you can hardly resist. Best eaten by digging your spoon deep till the bottom of stone pot, spoon up all ingredients and pop into the mouth. Oh-so-delicious!
Smoked Salmon Salad (RM17.90)
Fresh cabbage, Japanese cucumber, honey tomato tossed in Caesar dressing, garnished with bread croutons and smoked salmon. Ideal appetizer while waiting for your ramen to arrive.
Panna Cotta (RM11.90)
We usually don't order dessert in a ramen restaurant. Even if we did, matcha or green tea ice cream will be the choice. Exceptional case for Hakata IPPUDO ramen, as we will choose their remarkable handmade Panna Cotta. Creamy, dense and milky with a touch of sourish tang from chilled blueberry compote, we highly recommend diners to end their meal with this classic dessert when in Hakata IPPUDO.
#In Malaysia, Hakata IPPUDO ramen is available at Pavillion KL, The Gardens Mall, Mid Valley and Bangsar Shopping Centre (BSC).
Photography: Summerkid
Write Up: Summergirl
Address:
Hakata IPPUDO @ Pavillion KL
Lot C4.07.00, Connection Level 4,
Pavilion KL,
168, Jalan Bukit Bintang,
55100 Kuala Lumpur, Malaysia
Business Hours: 11am-11pm daily
Contact:+60321106233
Hakata IPPUDO @ The Gardens Mall
Lot-T218, 3rd Floor,
The Gardens Mall,
Lingkaran Syed Putra,
59200 Kuala Lumpur, Malaysia
Business Hours: 10.30am-10pm daily
Contact:+60322016238
Hakata IPPUDO @ BSC
Lot G110 Ground Floor,
Bangsar Shopping Centre,
Jalan Maarof,
59100 Bangsar, Kuala Lumpur, Malaysia
Contact: 03 2011 6238
Business Hours: 11am-12am daily
Website: www.ippudo.com.my
Facebook: https://www.facebook.com/IppudoMalaysia
Instagram: http://instagram.com/ippudomalaysia