Resides adjacent to Gardens Hotel and Residences, Pastis Cafe & Dining has been around The Gardens Shopping Mall for many years. It used to be at the concourse area but later moved next to the hotel as a proper shop. The restaurant specialises in desserts and tea-time sweet treats, but you can also get a wide range of Western, Asian and local delights on the menu.

Mushroom Soup RM18.90
A bowl of rich, creamy soup packed with chewy, tiny bites of mushroom. Served with a swirl of truffle oil and cream to enhance the flavour. Sided with plain country bread.

French Onion Soup RM18.90
In contrary to the mushroom soup, French Onion Soup in Pastis Cafe & Dining appears lighter in consistency, slow cooked to release sweetness of meat broth and caramelised onions all into the broth. Served with cheese toast.

Prawn Salad with Japanese Sesame Dressing RM26.90
Apart from the healthy freshness and nutrients that add on to our meal, the salad is pretty standard- lots of crunch from leafy vegetables, honey tomatoes, prawns and sesame dressing.

Spaghetti Aglio Olio RM24.90
Classic dish that saute garlic with full-bodied olive oil to deliver aromas and flavours from both, added with pungentness of chilli flakes for fiery kicks, all coated well into strands of spaghetti to sum up a plate of beautiful pasta. Topped with fresh, bouncy prawns.

Lasagna RM19.90
Flat, wide sheets of pasta inter-layers with savoury, tomatoish minced chicken ragu, finished with generous portion of mozzarella and send for baking to result in slightly crisp, cheesy top layer, rich and ooey-gooey pleasure beneath it.

Piri Piri Chicken RM24.90
Our favourite among all dishes in Pastis Cafe & Dining, also the hard-to-go- wrong dish. Chicken leg deep fried to golden brown, dry and crunchy outside, tender inside. Goes really well with special Piri Piri sauce by Pastis-spicy, sourish with a garlicky note.

Lamb Shank RM38.90
Lamb shank comes in hearty portion, having huge slow-braised lamb shank drenched in a bed of thick brown sauce. Meaty, chewy, but with pronounced gaminess. Served on a bed of roasted potatoes.

Cappuccino, latte, mocha
Pastis Cafe & Dining s pride for their dessert, chocolate and coffee so a trip to this restaurant should end with any of these. Coffee is decent, made from Lavazza blend, worth ordered to pair with your sweet treats.

Creme Brûlée RM12.90
Creme brûlée doesn't goes to our top list, as it will be better if the texture could be softer, more mellow and melt in the mouth.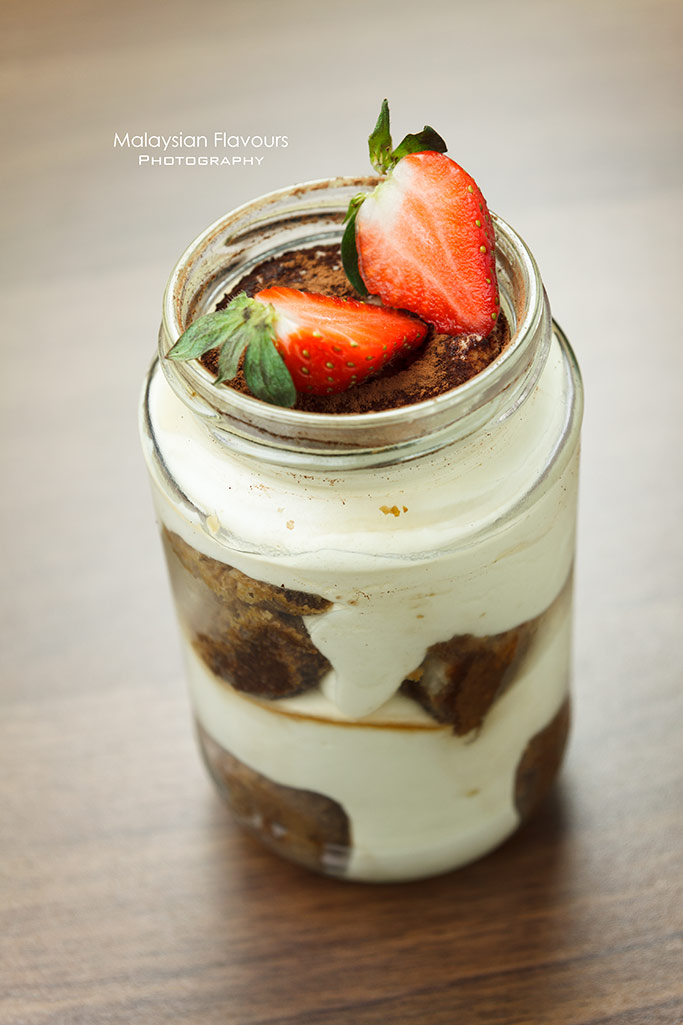 Tiramisu RM12.90
Traditional Italian dessert made from delicately smooth mascarpone cheese and lady fingers deeply infused with espresso coffee. Pastis has theirs fill in a jar. Good but owns the potential to reach a more delicious version.

Cheese Cake RM12.90

Chocolate Mousse RM10.90
This Chocolate Mousse is definitely for chocolate lovers, as it is thicker, richer and more chocolaty that you can expected. None the airy soft type, recommended for sharing.
***********************************************
Now, you can enjoy up to 30% discount when you dine in Pastis Cafe & Dining at The Gardens Mall by making your reservation through www.offpeak.my (T&C applies).
Terms & Conditions:
1)Valid Monday – Sunday 6.00pm – 9.30pm including public holidays
2)Valid for all food,drinks and desserts in the a la carte menu, excluding alcoholic beverages
3)Valid only for dine-in; take-away strictly not allowed
4)Not valid with other ongoing promotions, offers, combos, in-house set meals, products and discount card
5)Valid phone number is required
6)Offer subject to forfeiture for late arrival of 15 minutes from confirmed reservation
7)Confirmation reservation must be presented upon arrival for verification purposes
Photography: Summerkid
Write Up: Summergirl
Address:
Pastis Cafe & Dining
The Gardens, Kg-02,
Lingkaran Syed Putra,
59200 Kuala Lumpur,
Malaysia.
Contact: +603 – 2288 1559