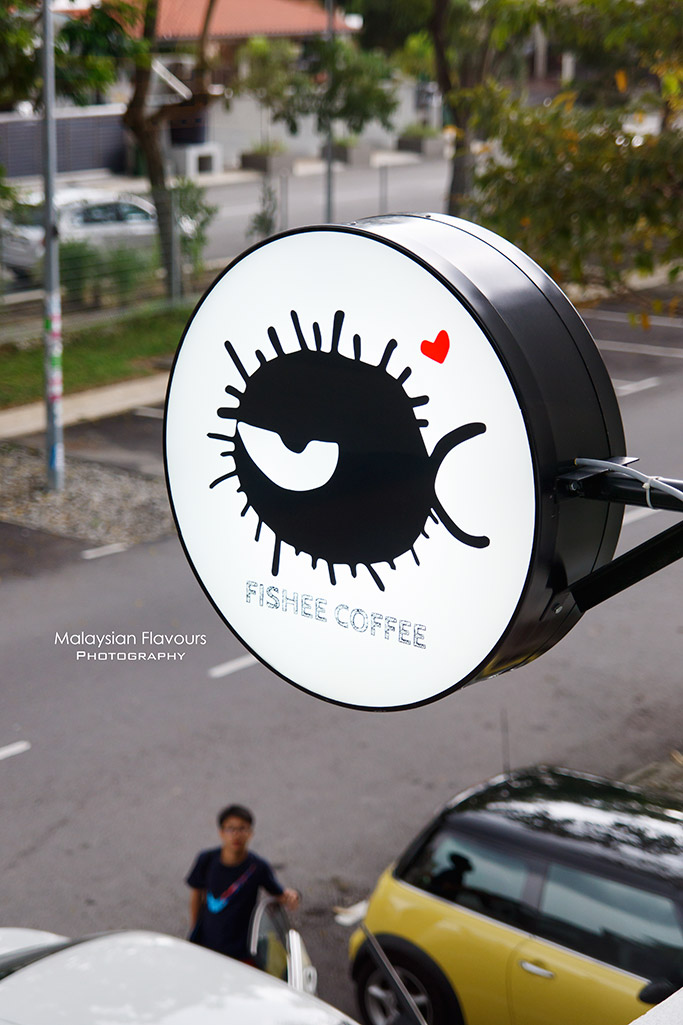 Smells something fishy in Bukit Jalil Kuala Lumpur? *Blink*. Because there is another new cafe up in this area – Fishee Coffee, a coffee junkie place.
Mentioning about Bukit Jalil Cafe, we have heard so much about The Owls Cafe waffle and coffee. The Owls Cafe is good all the time especially for their crispy outside, fluffy moist inside waffle but in case you need more choices, hop over to Fishee Coffee at Bukit Jalil, Arked Esplanad for more waffle, coffee and signature Fishee Ball Cheese Cake. If you come through Lebuhraya Shah Alam highway, after passing the "bridge" and toll (Plaza Toll Awan Besar Barat), turn left into a housing area (Jalan Jalil Perkasa 1), opposed direction to The Owls Cafe where you have to turn right.
Located within a quiet neighbourhood, same row with EA Autoworks, Fishee Coffee doesn't seem to receive much attention so far, judging from the crowd on one Sunday afternoon. But with a welcoming interior that is more than just homey, a little bit old school with a touch of raw & rustic, modern contemporary design, Fishee Coffee is an ideal cafe for mini gathering, as well as coffee lovers and those who wish to keep some individual time to themselves on weekends. Potential coffee place, hence we expect to hear more from Fishee Coffee in near future.
Frankly speaking, we love Fishee Coffee because it is quiet, with soothing background music accompanying our coffee moments. At a brief glance, the cafe settings is "all-in-one space", meaning with no separate corners. However, as we looked into details, Fishee Coffee can actually parted into few sections: a long coffee table which gives you a view of the blue sky and neighbourhood; sofa's corner with guitar lying by the side, home-like corner brimming with ornaments on shelves; and more opened area made up from customized wooden furnishing, colourful pillows.
Coffee takes the limelight in Fishee Coffee, ranging from general espresso-based coffee such as latte, flat white, cappuccino, americano, macchiato to more gimmick selections including red espresso (100% premium espresso-ground Rooibos tea) that turns your usual black and white into interesting Red Americano, Red Latte, Red Macchiato, etc.. Can also go for the antioxidants-packed Fresh Red for pure refreshment. Have all below RM10, +RM2 for extra shot, +RM1 for iced coffee. No GST.
Non-coffee drinker has a list of tea to sip on – British Breakfast Tea, Chamomile Dream, Coba Cabana, Lemon Ginger Mint from Singapore-founded Gryphon Tea Company, and Earl Grey, Spice Chai Tea, Peppermint Herbal Tea from Australian-owned SereniTea Infusions. Smooshie Juice joins Fishee Coffee and provide 100% pure, natural juice too. Spotted Orange Pineapple Mango!
 Fishee Ball Cheese Cake RM13
Yes, one of the reasons that makes us come by – Fishee Coffee Signature Fishee Ball Cheese Cake! Cute dessert huh? Appears in a adorable shape of fish, Fishee Ball has dark Belgium chocolate jacketing fresh cream cheese, crushed over with oreo base. Very dense, creamy in texture, but thankfully no trace of overly sweet. Just, too rich for us, better if it could be more moist, less compact.
Some says Fishee Coffee churns out wonderful waffles too, smaller version compared to The Owls Cafe but tastes as delicious. Not sure about the price as we didn't try any. Pineapple danish, Chocolate Muffin, Butter Croissant, chocolate brownies, savoury pie and few choices of cake like Sasha, Geri, are available too. Visit to know what is Geri and Sasha, these desserts team up perfectly with Fishee Coffee 's coffee and tea.
Comments: Environment in Fishee Coffee takes most points from us. Coffee still has a room for improvement. Service is good. Saw breakfast, lunch, and afternoon tea big title on the menu board but no further elaborations, probably they are still in the mist of finalising the food menu.
Photography: Summerkid
Write Up: Summergirl
Address:
Fishee Coffee Cafe
12-20 M,
Jalan Jalil Perkasa 13,
Arked Esplanad, Bukit Jalil,
Kuala Lumpur,
Malaysia.
Opening Hours: Wednesday-Monday 10AM–7PM, closed on Tuesdays
Facebook: http://www.fishee.com.my/