Mono Coffee Artisan Coffee & Kitchen (former location of Mono Sushi) at Publika Solaris Dutamas KL is a newly launched cafe specializes in third-wave coffee and creative cooking. Established in March 2015, Mono Coffee Publika is wholly owned by the Brandker Group who also manages Cosans Coffee, one of the most famous cafe in town.
Mono Coffee is proud to commence their Grand Opening on 17th April 2015 at their first outlet in Publika. Matthew Chong, the group CEO said that there will be another 3 more Mono Coffee in KL and Klang Valley, before they release this new brand for franchising.
The core of Mono Coffee is to create a comfortable place where coffee lovers from all over the nation would stop by and have a cuppa of coffee. In order to achieve this, the team has put so much effort to make the place a free, inclusive space where ideas thrive, a gathering point where artists and the public connect, engage.
Apart from artisan coffee, Mono Cafe also expanded their kitchen to churn out creative main course, pasta, burger to dessert. The styles of food at Mono Coffee are more towards Western with innovative twist, sweet and savoury matching for a fresh, unique dining experience.
Diners are welcomed to begin their meal in Mono Coffee with salads including Classic Salad (RM14), Bens Salad(RM16) or healthier, nutrients balanced Pods and Chicken Salad (RM16), then warm up the tummy with Baked Pumpkin Soup with Beef Bacon (RM11), or Chunky Mushroom Soup (RM11).
For main course, burger and sandwiches are worth trying, ranging from Gourmet Beef Burger (RM24) to Opened Face Salmon Sandwich (RM18), Egg & Sausage Sandwich (RM16), Chef Recommended Mango Chicken Sandwich (RM16), just to name a few. Diner who wish to keep their meal light at Mono Coffee can choose to have quiches, and pies.
Mono Coffee serves brunch from opening till 4PM. Therefore enjoy your coffee with power breakfast/brunch – Beef and Hashed Benedicts (corned beef, grated potato, english muffin, poached egg, spiced hollandaise sauce, pea sprout), Croque Madame (Smoked Salmon, melted gruyere, green, red radish, one-eyed jack), Stack it (pancakes, crispy beef bacon, maple peanut, butter syrup, roasted tomato) and more.
Coffee is still the highlight in Mono Cafe, using special mixed houseblend which they proudly named as "Monian". It is combination of three prestigious kinds of coffee beans from Brazil Yellow Bourbon, Guatemala Antigua and Sumatra Lintong. Malty with honey-like nuances, nutty flavour, with bittersweet cocoa, dried berries sweetness, smooth and clean finish.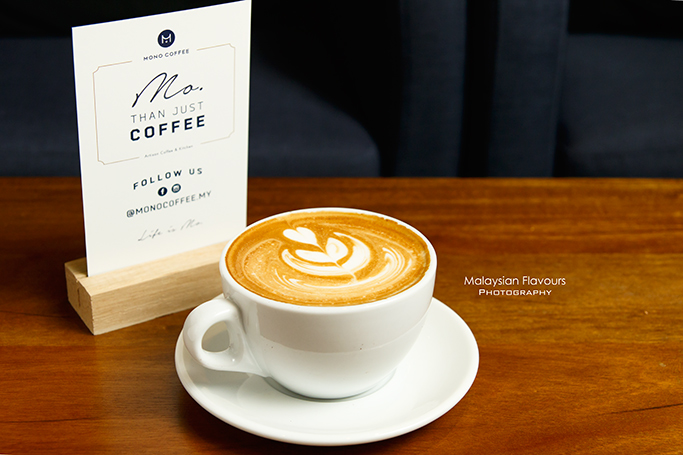 Flat white, latte, cappuccino, mocha, americano and other espresso based coffee are all reasonably priced, available below RM11 for hot (+RM1 for flavoured latte), RM9- RM14 for 12oz, 16oz in cold version. Add RM2 for extra shot. Do enquire the staff for latest single origin coffee beans for hand-brewed coffee. Get them in chemex, aeropress or pour over method.
In short, Mono Coffee is a great coffee place for relaxing meet up, as well as casual meal or merely a sip of coffee. Even though both Cosans Coffee and Mono Coffee are under the same group, they are differ where the former focus on just coffee, cakes, desserts and light bites, while the later is complete with savoury menu that you can enjoy from breakfast, lunch till dinner.
Photography: Summerkid
Address:
Mono Coffee 原點咖啡
A2-G2-3A,
Publika Shopping Gallery,
Jalan Dutamas 1,
Solaris Dutamas,
Kuala Lumpur, Malaysia.
Contact: 03 – 6206 5239
Website: http://www.monocoffee.co/
Facebook: https://www.facebook.com/monocoffee.my