We have been wanting to visit Ten Japanese Fine Dining Restaurant at Marc Residence KL since its opening, but looking at their expensive dinner menu that will burn a hole in our pocket (despite you may say it worth every penny you pay), Ten stays in our must-visit Japanese Restaurant pending list for a long period, till this year.
"Let's try out Ten Restaurant for Japanese Lunch later". Out of the blue, Summerkid suggested. Definitely a very, very, very rare occasion that he would come out with a lunch idea, as he sticks to Chicken Rice all the time whenever you ask him "what do you want to eat for lunch?". So, why not?
Ten Japanese Fine Dining Set lunch is definitely cheaper, much more affordable comparing to their dinner menu. Price start from as low as RM18 for a plate of plain curry rice to RM198 seafood sashimi set (Ten Lunch Set Menu CLICK HERE). If you kept your choice towards more common selections like unagi don, chicken katsu don and teppanyaki, you can walk out with a satisfying tummy, and bill below RM100 per pax.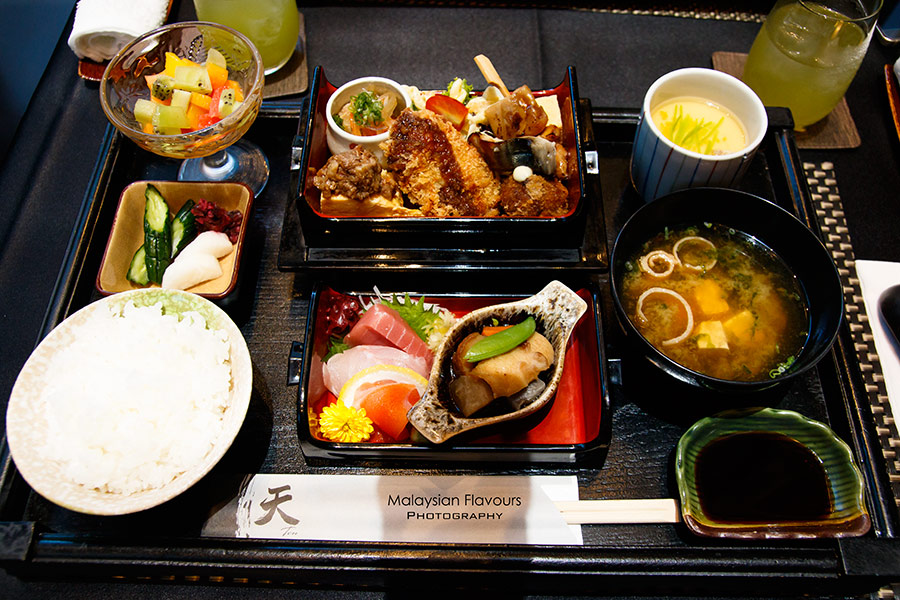 Ten's Bento RM55
We tried out Ten's Bento and Chicken Katsu Don Washoku for this time. Ten's Bento seems to be one of the favourite order in Ten Japanese, ideal for those who want to savour a varieties of flavours in one go.
Arrived in a charming, photography-worthy two-tier box, the bento is complete with a bit of everything in small size – Sashimi, Grilled fish, grilled teriyaki chicken, oden, pasta salad, tamagoyaki, croquette, served with white rice, chawanmushi, miso soup and fruit dessert.
Melt in the mouth Chawanmushi, very soft, no trace of custard-y. We tasted hints of yuzu too, correct us if we were wrong.
Chicken Katsu Don RM32
A regret order for Summergirl, not because of the taste, but because of the portion. It was so huge and she could barely finish even half of it. Big bowl, half filled with Japanese rice, generously topped with chicken katsu and a layer of onion-egg mixture, drizzled with savoury-sweet sauce.
Thick chicken cutlet, juicy and meaty, dressed with crispy golden deep fried outer layer. Served with chawanmushi and miso soup. A set of basic Japanese comfort food at its best.
Our bill come to ~RM105, included two glass of unlimited refill cold green tea (RM6 each). Food price stated is excluded GST but surprisingly, no service charge. Staffs are attentive and polite, but it took them some time to brought our bill over. Understood, seeing that it was quite crowded that time, short-handed we guessed. Parking in Marc Residence is Free if you dine in Ten.
In short, overall OK if you are only looking for value Japanese set lunch in an exquisite environment. However, if budget allowed, fine dine should be your choice at Ten. Omakase is highly recommended too, priced from RM95+ for Omakase Lunch Course, RM145+ for Teppan Lunch Course and RM235+ for Heaven Lunch Course. Dinner Omakase and Course Menu are available too. Check out their menu HERE. 
Photography: Summerkid
Write Up : Summergirl
Address:
Ten Japanese Fine Dining Restaurant
A-G-1, Marc Residence,
Ground Floor,
No.3, Jalan Pinang,
50450 Kuala Lumpur, Malaysia.
Opening Hours:
Monday – Sunday
Lunch (11:30AM – 2:30PM)
Dinner  (6:00PM – Onwards)
Note:
No children of under the age of 12 allowed.
Formal or Smart casual for dress code
Can request to redeem free parking ticket waiver from staff. (Marc Residence KL car park only)
Email: info@tenrestaurant.com.my
Contact/reservation phone number: +60 3 2161 5999