Time Tunnel Museum, a tourist attraction that has been around Brinchang, Cameron Highland for like 10 years. Shame on us, as we only know about this interesting place during our recent visit to Cameron. Haha.. nevermind, better late than never.
Location of Time Tunnel Museum is pretty strategic, same row with Kok Lim Strawberry Farm. You can easily spot it next to the main road when you are coming up from Tanah Rata. Big signage so you can hardly miss out, unless you drive past way too fast and not paying attention to shops around you. LOL.
Proudly opened by Mr. See Kok San, a local staying in Cameron Highlands, Time Tunnel Museum showcases not only his precious collections, but also a gallery of Cameron Highlands historical timeline.
Decades old collections, some we've seen before during childhood time, while some not.
These exhibited items transported us back to the olden days, those time when our grandma was still using charcoal to boil a cup of tea. Over hundreds of old fashion stuffs and if you brought your grandparents and parents over, they might happily hold your hands and tell you: I know this, my house used to have this… I still keep this at home… bla bla bla.
It was fun seeing them reminisced all the good old things that you already don't see in the modern city today. We gained knowledge too. As we walked down the memory lane, we get to observe vintage knick-knacks, brands bottles, cans, electrical appliances, table wares, cooking utensils and so forth.
Nice to have an insight of how certain brands' logo and packaging looked like back in 40s or 50s. Darlie toothpaste used to call Darkie, and the minstrel with shinning white teeth on the packaging changed a lot too.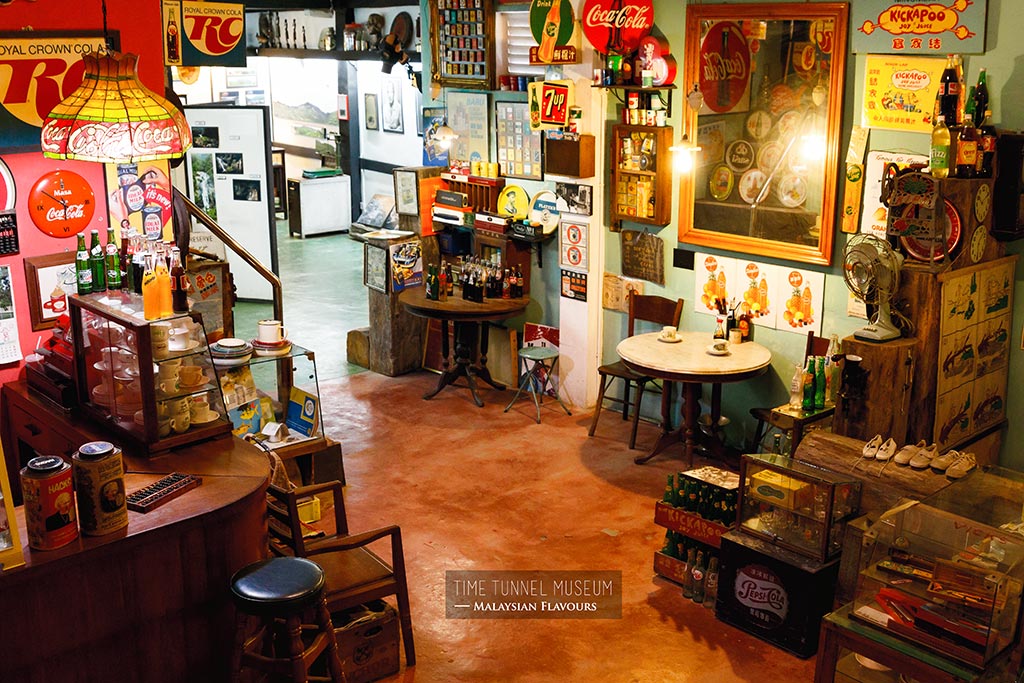 Ticket price to enter Time Tunnel Museum Cameron Highland is RM6 for adult, RM4 for child (price of Feb 2017). The whole area isn't big, spending time is about 1 to 2 hours. If you really want to have a thorough look on each piece of items, pose and take photographs, you may want to spend longer time there.
Time Tunnel Museum
Address:
(*next to Kok Lim Strawberry Farm)
UT/MR/F-255, Jalan Sungai Burong,
39100 Brinchang,
Cameron Highlands, Pahang.
Opening Hours: 9AM – 6PM
Entrance fee: RM6 per adult, RM4 per child