We can hardly say no to afternoon high tea set, especially a beautiful one.
Upperhouse Bangsar Afternoon Tea Set
Came across 3-tiers high tea set from Upperhouse Bangsar KL when scrolling through our Instagram feed few weeks back, and immediately pin it as our next café hopping destination.
Located along Jalan Telawi 3 Bangsar, same row with Hanbing Korean Dessert Bar, Ojo Coffee and Alexis Bistro Bar, Upperhouse Bangsar appears to be more low profiles, occupying a lot on the 1st floor above Reliance Optical shop.
Our initial intention was just to have afternoon high tea but after a casual conversation with staffs from the café, we learnt that the core of Upperhouse KL actually lies on their Australian-inspired plated dessert – A sweet treat that is beyond just a piece of ready cake displayed in dessert counter.
Plated dessert is made upon order, putting together components of different flavours, textures and ingredients with high concern on the harmony of each to construct a plate of dessert that is a feast to eyes and palates. Time consuming, more complex and requires patience but the outcome is definitely more enjoyable to taste on.
Carrot – Walnut, greek yougurt, honeycomb, burnt honey ice cream RM20
Armed with skills learnt from famous Le Cordon Bleu, along with culinary experiences from some of the best restaurants in the world – Quay Restaurant in Sydney, Andre in Singapore and staged in Heston Blumenthal London and Janice Wong in Singapore, passionate pastry chef Hesley Ling and Gerard Ng, who is also the man behind Pastry Manners, aim to entice the taste buds of Malaysians through a more unique, fine dessert experience without putting a strain on your budget.
Browsing through Upperhouse Bangsar menu, we found six plated desserts, namely Apple, Carrot, Lemon, Mille-Feuille, Strawberry, Textures of Chocolate. They are arranged from light to rich so depends on your personal preference, you can look for a choice that best suit your liking.
Mille-feuille – Puff pasty, orange milk chocolate mousse, pineapple, almond, hay ice cream RM24
Top seller among all, thanks to its photography-worthy outlook. Puff pasty as the base, decked up with orange milk chocolate mousse, finished with pineapple, almond and raspberry tuile. Served with homemade hay ice cream that scores on the earthy notes. We like!
Textures of Chocolate – 70% Callebaut, toasted rice, burnt honey ice cream RM25
Summekid's favourite. Artistic presentation of flexi chocolate made from 70% Callebaut – chocolaty and rich with texture akin to agar-agar chewiness, but more dense. Spot the raspberry gel. Minimal amount but a brilliant "touch up", delivering pleasing sourness that pairs almost in perfect with the chocolate. Finished with toasted rice and honeycomb for extra crunch, ice cream for chilly sensation.
Afternoon Tea Set at only RM65, available fom 3PM-6PM daily. Everything is so pretty from the bottom to top tier! That mini size mille-feuille and macaron are oo-so-adorable. Feel so reluctant to eat them up.
Upper tier: Mille-feuille, chocolate truffle/praline, mini macaron
Middle tier: Raspberry banana bread, dark chocolate cake, trifle
Bottom tier: Parmesan breadstick, cacao ravioli, mushroom bruschetta, smoked salmon, cucumber and mango sandwich
Cacao Ravioli RM34
Apart from the sweet, Upperhouse KL also offers savoury hot food, making it lives up to its name of "Kitchen & Dessert Café" better. From appetizer to soup, toasties, pastas, all day brekkie and modern Asian & Western main courses – Selections are sufficient to keep your tummy happy before making way to lovely dessert.
We checked out two from the menu – Cacao ravioli and Schnitzel Chicken Upperhouse Style. Doesn't put much expectation on the ravioli at first but once we had our first bite, we were surprised with the forest mushroom filling packed with natural sweetness, juiciness and cheese creaminess, all sealed within black, handmade pasta dough cooked al-dente. Dressed with Capsicum sauce for tangy and refreshing touch to balance up the overall flavours.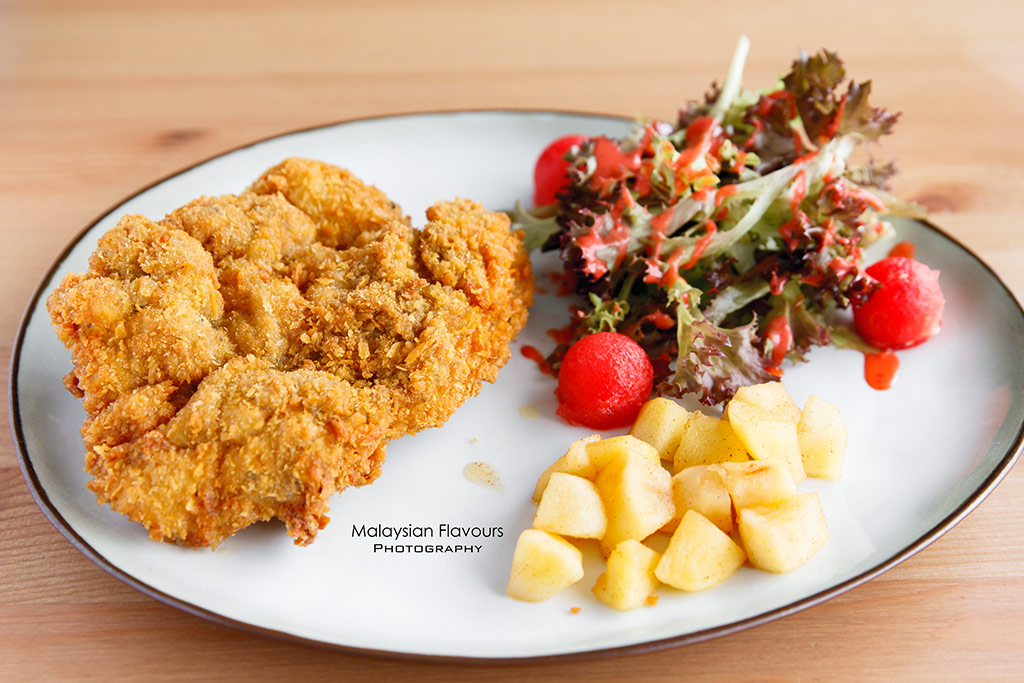 Schnitzel Uppehouse Style RM25
Chicken Schnitzel, a delicious dish that both children and adults will love. Breaded and deep fried to golden brown, enjoy the crunchy outer layer and meaty pounded chicken breast that is never too dry. We had it together with apple chutney that made wonders to the overall taste with fruity sweetness. Comes with a side of strawberry salad too.
For beverage, try their Hot Chocolate (RM10) made from Callebaut premium Belgium chocolate, one of the finest chocolate in the world. We had it served over ice cream cone but personally feel that if you prefer easier drinking, getting this awesome drink filled in proper cup is better. Haha.
Rainbow Lemonade (RM8) – a more gimmicky drinks on Upperhouse Bangsar menu. Get your camera ready for video and observe the "Unicorn colour" transitions as you pour in fresh lemon juice. Violaa…it turned from blue to purple. The blue comes from blue pea flower. No colouring is added so drink with peace of mind ok? haha.
Overall, we have a real great time in Upperhouse Kitchen & Dessert bar. Plated desserts are excellent, savoury food is good too. Afternoon tea is must-have, as they are thoughtful enough to put together many of the cafe's best sellers in bite size so that you get to taste them in one go, at reasonable price!
Upperhouse Kitchen & Dessert Bar
Address:
27A, Jalan Telawi 3,
Bangsar Baru,
59100 Kuala Lumpur, Malaysia.
Opening Hours:
Tue-Fri (11AM-10PM)
Sat-Sun (9AM-10PM)
Closed on Mondays
Facebook: https://www.facebook.com/upperhousebangsarkl/