We first spotted Tapestry KL when we were having our afternoon tea at Hotel Stripes Kuala Lumpur located right across the road. It was still under renovation, but already looks great from the outside.
Read more about Hotel Stripes Bao Tea Ful Afternoon Tea and Sizzling Sunday BBQ Buffet 1-For-1
Couldn't wait to visit but Tapestry KL took the social media by storm when it is opened to public. Business hour starts from as early as 8AM, and we aren't a morning person. So chances are, we would have to queue for brunch – something that we try to avoid nowadays (*10 years ago, maybe).
Our friend told us they waited for more than an hour just to get into the cafe.*shrugged*. So we decided to wait for the frantic crowd to fade away a little. Try our luck last weekend, at around 9.30AM. Yay, no queue, but was already 3/4 full for main dining hall.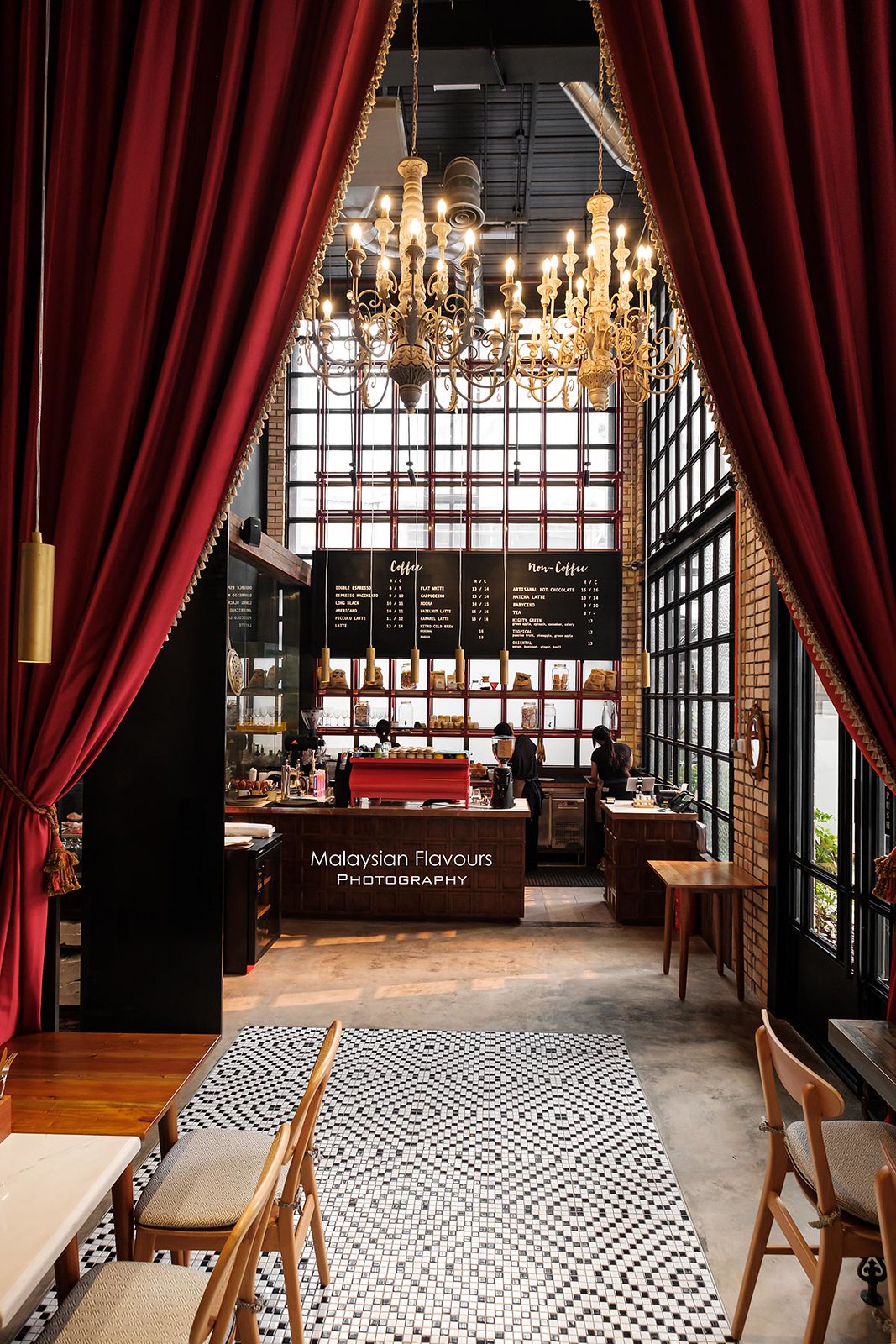 Seated at the high table near to entrance. Not the best spot for food photography as they turned on the yellow light, but awww… look at this cafe view. Stunning interior. 
Rise & Shine Egg Drop RM22 – best-seller in Tapestry KL. Freshly made, warm hot cross bun stuffed with soft-scrambled free-range scrambled eggs, cheddar, caramelized onions and siracha aioli. Comfort food that we won't say no to for breakfast.
Potato Hash RM28 – a medley of charred sweet corn, potato cubes, salt beef, onion, bell pepper, topped with banger and poached free range kampung egg. Generous portion, but a tad oily for us.
Other dishes on Tapestry KL menu includes Shakshouka, Pancake, Banana Bread, Bircher Muesli, Smashed Avocado on Toast, Egg Benedict, French Toast, Linguine, Free-Range Kampung Eggs Any Ways on Toast, and Field of Mushroom On Toast, just to name a few. Most items are priced above RM20.
Do check out The Hainan RM20, a creative cross between our local favourite with modern twist, aiming to pay tribute to our old-school style breakfast. A platter of soft scrambled free-range kampung egg spiced with coffee, charred heriloom tomatoes and truffle butter to go with Hainan Toast.
Lunch is served from 11.45AM onwards, offering selections like Fish & Chips (RM35), Bangers & Squeak(RM32), Lamb Meatballs with Grana Padano on Sub Roll (RM28), Fried Chicken Drizzled with Honey Siracha (RM28) and Salt Beef Burger (RM32).
Coffee is our must-have. Also Matcha Latte. Both were good. They also serves juices, hot chocolate, cocktails, wine, craft beers.
Overall, nice cafe environment, friendly service. Especially convenient for travelers who enjoy cafe hopping too, as Tapestry KL is just 5 minutes walk from Dang Wangi LRT station.
Tapestry KL
Address:
28, Jalan Kamunting,
Chow Kit, 50300 Kuala Lumpur.
Opening hours: Mon- Fri 8AM – 4PM, Sat-Sun 8AM-5.30PM
Nearest public transport: LRT Dangi Wangi, 5 minutes walk