First KL hotel staycation in 2020!
Checked in to Four Points by Sheraton Kuala Lumpur, Chinatown –  a brand new hotel situated  3 minutes walk from Pasar Seni MRT station, 5 minutes walk to Petaling Street! Very convenient especially for travelers!
And it is more than just another stylish hotel. Entering the hotel's lobby at 7th floor, we were amazed by the vibrant, rich-toned interior that breathes in Oriental-theme atmosphere the stylish way, blending in traditional and modern elements through thoughtful matching of colours, textures and furnishing.
Inspired by the heritage and history of Chinatown, Four Points by Sheraton KL Chinatown recreates an evocative space that evokes a sense of nostalgia, fuses comfortably with trendy, contemporary design – traditional jade hued tiles, old Chinese medicine shops-like shelving counter, high ceiling embellished with paravent, long wooden tables with mosaic tile table tops, framed pictures adorning a backdrop of exposed bricks wall, distinctive decor pieces and more, contrasting by a view of KL city downtown.
For rooms, Four Points by Sheraton Kuala Lumpur, Chinatown features a total of 318 appointed guestrooms, all well-equipped with amenities you need for a home away from home stay.  7 types of rooms to choose from, namely Deluxe King Room, Deluxe Twin Room, Premier King Room, Premium Twin Room, Premier Downtown King Room, Premium Downtown Twin Room, and Premier Suite.
Love our Premier King Room with a view of the Chinatown from high up, and KLCC from afar too!
Spacious, separated bathroom and toilet. Complete with toiletries like shampoo, body wash, conditioner, lotion, toothpaste & toothbrush set, personal care items, hair dryer, towels.
Splash around at the hotel's outdoor pool…
… or stay fit at 24-hour gym, if you wish to.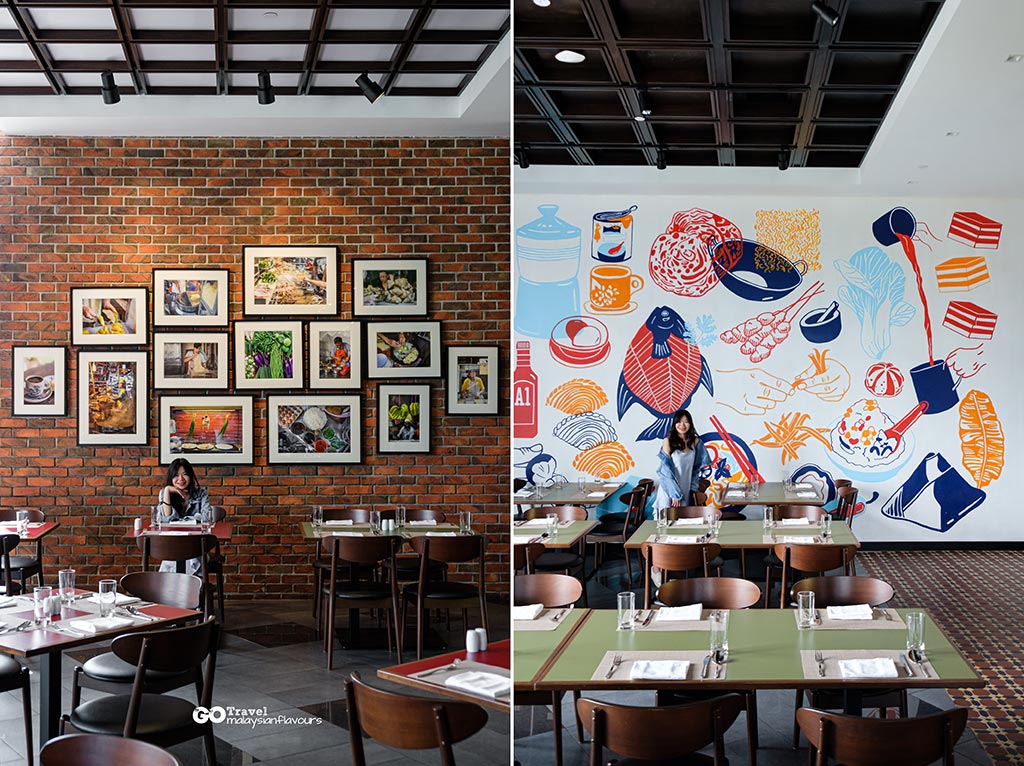 Adjourn to Quan's Kitchen – the hotel's all-day-dining restaurant for lunch.  Again, we were greeted with a lovely environment that is Instagram-worthy at almost every corner! So pretty!
Quan's Kitchen menu highlights a vast selections of local delicacies that pay homage to the culinary institutions surrounding the neighbourhood, reinvented by Head Chef Gerald Chong using classic recipes through his years of experience and generational training from the women in his family.
 Jalan Sultan Kon Loh Noodle, Jalan Sultan Redefined Loh Shee Fun, Jalan Petaling Claypot Porridge, Jalan Hang Lekir Longevity Pan Mee, Jalan Sultan Satay Ponogoro, Jalan Petaling Quan's Chicken Rice, Jalan Tanglin Nasi Lemak Kampung, Jalan Petaling Sticky Dried Chili Chicken and among others- Indulge them all under one roof.
Other than these familiar street food, Quan's Kitchen also covers International mains such as Pan-Seared DCWH's Grain Fed Striploin, Dorper Lamb Rack, Pan Seared Salmon, Crispy Eggplant & Cheese, Seafood Aglio Olio, Supreme Burger and Mushroom Alfredo Pappardelle. Along with that, our must-try goes to Chef Special – Spring Roll Peking Duck from the Appetizer section.
Address:
Quan's Kitchen
Level 8,  Four Points by Sheraton Kuala Lumpur, Chinatown
2, Jalan Balai Polis, City Centre,
50000 Kuala Lumpur, Malaysia.
Nearest MRT: Pasar Seni MRT, 3 minutes walk
In the evening, unwind at the latest cocktail bar in KL – Jann, which is also proudly presented by Four Points by Sheraton Kuala Lumpur, Chinatown. Tasted some of the most unique cocktails in town, crafted with inspiration taken from historical figures, traditional trades, local culture and popular street delights from Petaling Street area.
We are surprised at how these creative concoction, or pairing can come together so well. And each of them have a story to tell. Take this Bak Kwa-Hang Lekir for example. You might not know that Oloiya, the meat jerky artisan made his business starting from selling orange juice. And now we got this cold crisp vodka & blood orange cocktail paired with dried meat!
Other recommended cocktails include Dear Jann – the bar's signature cocktails that is floral and fruity in flavours. Just like Jann, who is sweet, sugar, spice and everything nice. Gin based, balanced with a pinch of Himalayan Pink Salt, better with dried mandarin orange peel;  POS 1911 – Jalan Panggong, The Tailor – Jalan Sultan, Rojak – Jalan Sultan, Little Devils – Kwai Chai Hong, Sei Ngan Chai – Jalan Petaling and Tau Foo Fah – Jalan Petaling. Cocktail price begins from RM40, capped at RM50.
And awwww.. the panaromic KL city skyline.
Address:
Jann Cocktail Bar
Level 7,  Four Points by Sheraton Kuala Lumpur, Chinatown
2, Jalan Balai Polis, City Centre,
50000 Kuala Lumpur, Malaysia.
Nearest MRT: Pasar Seni MRT, 3 minutes walk
Opening hours: 4PM till late
Had a walk around Kwai Chai Hong 鬼仔巷 – one of the newest tourist destination in town that is right opposite the hotel after our drink session. Join the hustle & bustle of Petaling Street later, and discover worthwhile cafes, dessert shops and eateries nearby later in the evening.
Rise & Shine!
Breakfast at Quan's Kitchen is unexpectedly good. A lovely spread of Asian and Western delights,  putting together eggs, sausages, baked beans, breads, salad, etc. – make into your very-own-style of big breakfast platter, along with tummy-warming porridge, noodle soup as well as all-time-favourites like nasi lemak and mee goreng.
What makes Four Points by Sheraton KL Chinatown's special is a small counter that prepares kopi & Hainanese kaya & butter bread! It is quite easy to miss out so do take note on the stall on your right hand side once you enter the restaurant.
Overall, we really enjoyed our 2D1N stay in Four Points by Sheraton Kuala Lumpur, Chinatown. A very difference experience. Loud applause to the hotel's effort in addressing the essence of Chinatown in modern way, be it on the interior, restaurant, food and even bar. Jann, the bar with cocktails that serve like a storyteller of Chinatown, elevate the overall theme in a interesting way. Highly recommended hotel to go for.
Four Points by Sheraton Kuala Lumpur, Chinatown
Address:
2, Jalan Balai Polis, City Centre,
50000 Kuala Lumpur, Malaysia.
Nearest MRT: Pasar Seni MRT, 3 minutes walk