Hai Kah Lang TRX, Jalan Imbi KL is now opened – if queuing at Hai Kah Lang Cheras is a hassle for you, check out their latest branch, located just a stone's throw from the upcoming financial district in Malaysia.
Ever since Hai Kah Lang at Yulek, Taman Cheras receives Michelin Bib Gourmand award in 2022, the shop are seeing more and more customers, making a beeline to try out their seafood noodles – brimming with freshest catch in different varieties.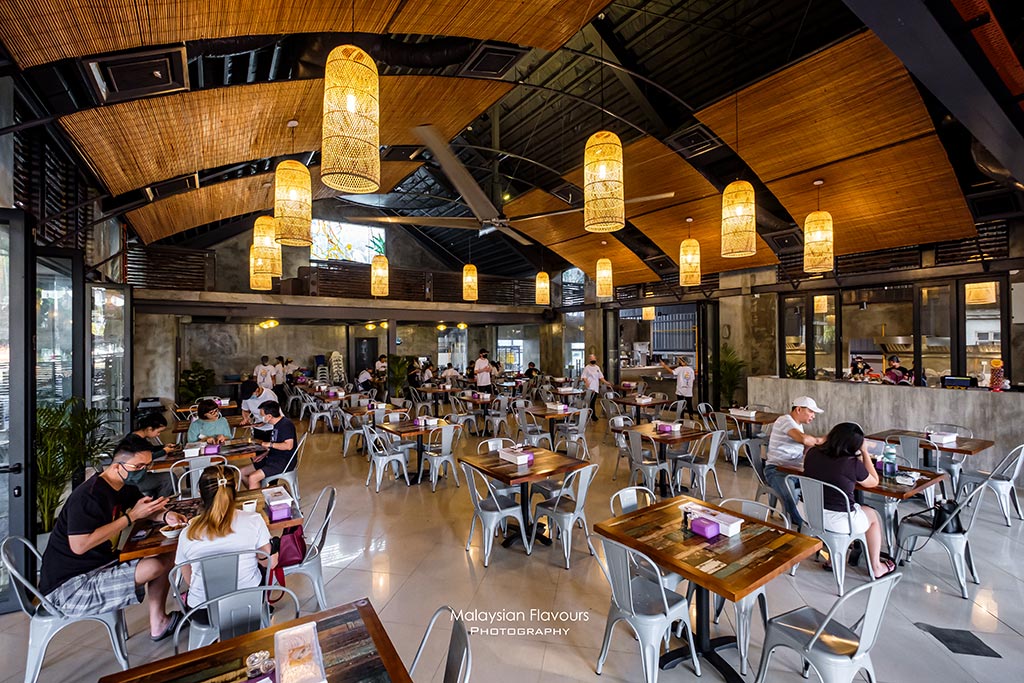 Unless you be there really early, else, get ready to be patient and queue. An estimated time of 30minutes to an hour of waiting time during lunch peak hours, on weekend. We went few times, gave up every time as the line was too long. Then last week, one of our friends told us that Hai Kah Lang is opening a new branch in KL city. Check it on Google Map and owh, it is in Imbi area – somewhere near to Chocolate Kingdom, Chuai Heng Banquet Hall, 老香港火锅楼& 欢喜吧. It is not inside the TRX business hub, but accross the mall/function hall which is under construction right now. A clever location choice though – imagine the crowd that the business hub will bring in when all the offices, retails, residences, hotel are fully opened.
Hai Kah Lang TRX started their business from as early as 8AM. We arrived at 8.30AM last Sunday. Getting a table is still a breeze. Less than half full, also thanks to the spacious dining area that comprises of indoor and outdoor.
How to order :
Step 1: Choose your topping
Plenty of choices from Grouper to white pomfret, red snapper, barramundi, senangin, squid, fish maw, prawn, lala, white clam, oyster, sea cuucmber, abalone, flower crab, mackerel, fish head, fish belly, and the list goes on.
Step 2: Choose the soup
Fish bone soup (with our without wine), dry, porridge, soup with milk, tomato soup, curry soup
Step 3: Choose your noodle:
mee hoon, lou xu fan, mi xuan, yellow noodle, kuay teow, wantan mee, thick mee hoon, or porridge.
With the long list of topping choices on Hai Kah Lang menu, we went into dilemma on which seafood to choose from. Probably we ain't the first one. Haha. So they actually have a page that put together all their highly recommended dishes with picture for illustration. Pick from the customized option and skip the choosing time – at least this is what we did.
Ordered Milk Soup Fish Head Noodle and Mix Seafood Noodle – 2 top, evergreen options in Hai Kah Lang. Add on Fried Fish Cake as side dish because everyone said it is a must-order. They also have like fish ball, fried fish meat, fried fish head, fried senangin, fish lips, fried bean curd, fried shrimp dumpling, etc..
Milk Soup Fish Head Noodle (RM17.90) – fried fish head is served in separately bowl, the way we like. Enjoy while pipping hot, the fish is great.
Mix Seafood Noodle (RM28.90) – Fish bone base soup, generously filled with flower crab, fish slice, clam, prawn, squid. Summerkid find the soup lack of flavours but Summergirl find it a little too heavy. Personal taste bud though. But we both agreed that their seafood is really fresh; and would request to omit the seaweed on next visit, as it affect the overall taste of the soup.
The difficult part – parking issue. Hai Kah Lang TRX offers valet service but forget to ask about the rate, as we parked further down the road, near to KLOE Hotel. If you are early on a weekend, like between 8AM – 8.30AM, you can still get a legal roadside parking if you are lucky.
Total bill came to RM70++ including a glass of Hai Kah Lang Hai Nan Kopi Peng. Overall a decent place for breakfast and lunch in KL if you are in town, and doesn't mind about the parking issue. But to say like purposely visit from far, all the way just for seafood noodle, maybe not for us.
Hai Kah Lang TRX
Address:
32, Jalan Utara,
Imbi, 55100 Kuala Lumpur.
Opening hours: 8AM – 5PM